Melbourne has dominated this year's Housing Industry Association (HIA) Hotspots Report, with 12 of Australia's Top 20 building growth areas all located around Victoria's capital.
The view of Melbourne from 252/350 St Kilda Road, VIC, 3004
The state was the clear stand out as Melbourne dominated the rankings of the biggest growth areas in the nation.
The HIA report classified "hotspots" as areas with a population growth rate that has improved the national growth rate.
The building boom, an increase in infrastructure projects and growing services sector are to thank for the city's booming population.
According to the HIA report, last years' census revealed 144,000 more residents in the city than previously thought.
"The remarkable performance of Melbourne in this year's Hotspots report demonstrates how well the circle of job creation, population growth and new home building can boost an economy," said Shane Garrett, HIAs senior economist.
"With a large volume of work still to be commenced, no downturn evident in approvals, and population growth still exceeding 2 per cent, Melbourne and its surrounding areas are likely to produce many hotspots for building activity going into 2019," he said.
National Top 20 Building and Population Hotspots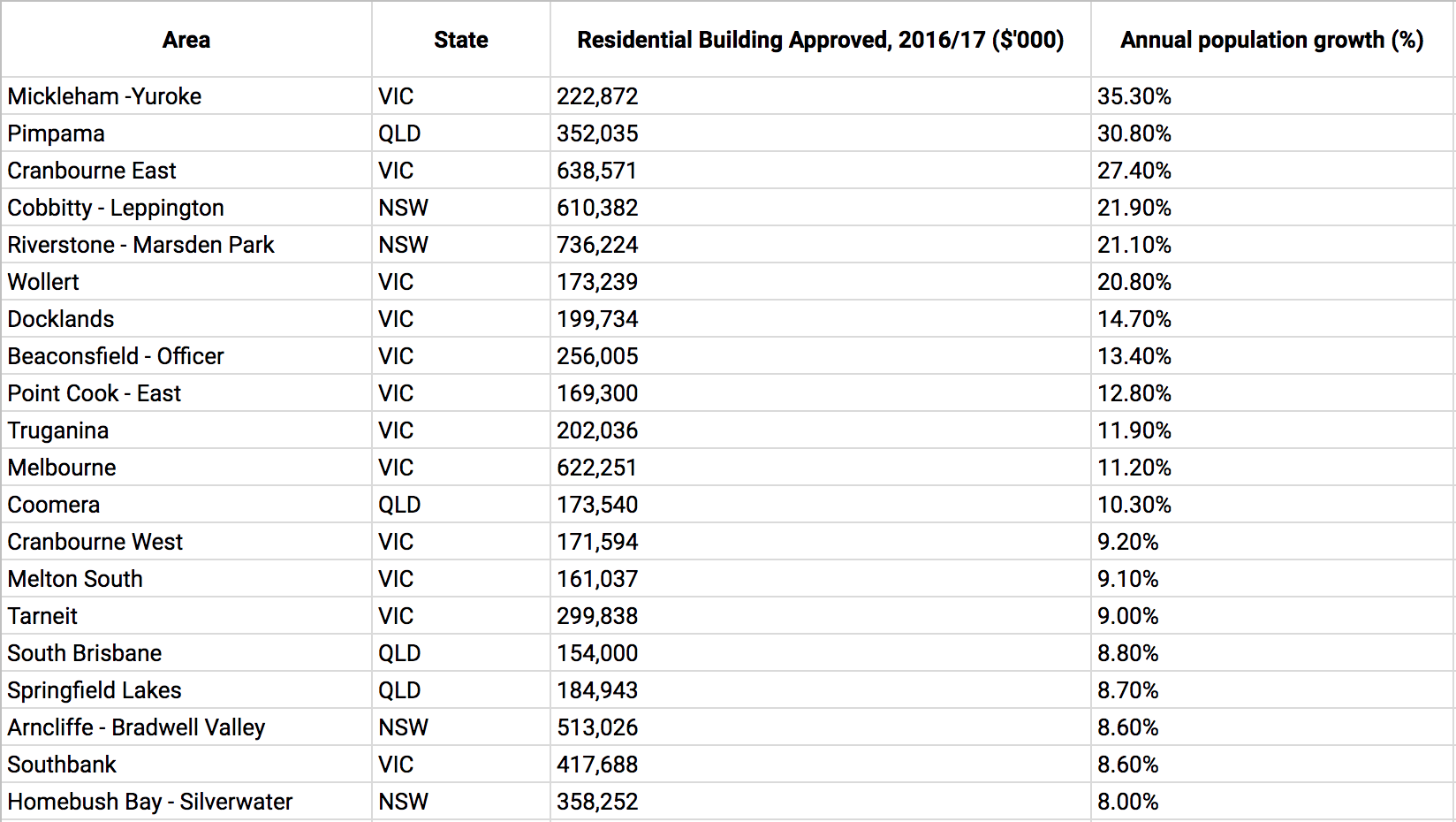 Source: HIA
Meanwhile, suburbs in Sydney are also seeing encouraging growth.
"A number of Sydney's Western and South Western suburbs are also on the move. From Leppington to Parramatta and Blacktown, the large pipeline of new housing will attract significant population growth," Mr. Garrett said.
In Queensland, the South Eastern corner is the focus of activity. Population growth has accelerated over the past year in the South East, an indication that Queensland is beginning to see solid employment gains.
South Brisbane also joined the ranks, where the apartment boom has resulted in significant approvals and population growth.
"Even in those parts of the country that are experiencing challenging economic conditions, there are some bright spots on the local housing map. We have identified Hotspots in all states and territories which are underpinned by robust levels of new home building and increases in population," concluded Shane Garrett.
MORE:
Australia's Top Four Suburbs For Golf Lovers
The Many Moving Parts Influencing House Prices
Almost 25 Percent Of Your Income On Rent In Melbourne
Source: therealestateconversation.com.au